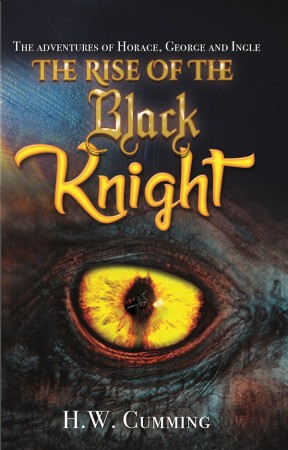 The Rise of the Black Knight : HW Cumming

The Adventures of Horace, George and Ingle: The Rise of the Black Knight
Horace, George and Ingle are three brothers aged 15-17 growing up in a time of relative calm in a land once dominated by great battles called Galray – an expansive kingdom that stretches as far as the eye can see. The younger twins, Horace and George have shown a strong affinity for becoming knights whereas their older brother Ingle spends much of his time perfecting the art of cooking and baking with the artisan chefs from throughout the lands.
The Kingdom has enjoyed peace and prosperity for many years under the watchfulness of the knight's council and the strong leadership of their father King Reynold.
A fierce storm raging outside interrupts the brothers from a game of chess – their favorite game with a dazzling display of nature's fury and lightening just outside the castle. They decide to lay down their game and venture into the watch tower to get a better look at the storm and witness the enormous lightning strikes in one of the villages – causing fires that the villagers cannot seem to control. In the darkness of the tower, Horace and George encounter a figure in the shadows that is also watching the devastation and that they see leap from the tower and disappear into the night.
The next day at the council meeting their father King Reynold makes the unusual choice to appoint his son Ingle to the investigation that is to be led by another King's son from the council named Roland. Ingle and Roland set out to investigate the scene of the fire and uncover a strange substance with an unusual smell that Ingle can faintly recognize from his time in the kitchens. The next day, Roland anxiously sets out to see the Oracle of the mountains, while Ingle visits the kitchen and enlists his teacher to help him uncover what the substance could be. After uncovering that something or someone had coated the village roofs with a sort of film that burns when wet, Ingle now sets out to enlist his brothers. Later that night they set out to find Roland and warn him that someone is working against their father and that the kingdom may be in danger.
The boys didn't know that tonight would be the start of an adventure that would change the course of their lives. What starts as a simple storm turns into a race to save the kingdom. Dragon's, myths and betrayal lay ahead as the three brothers are forced to lead and become men.
Book Links
Facebook
Amazon Author Page
On Amazon
More Great Reads: