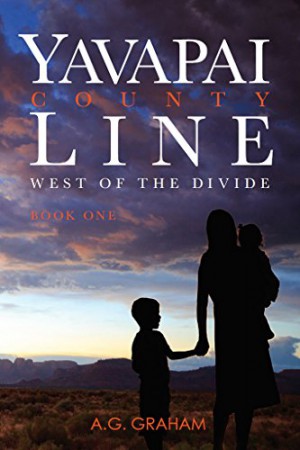 Yavapai County Line : A. G. Graham
Yavapai County Line
Yavapai County Line is a family saga and is the first book of the West of the Divide Series, which centers around the Stewart famly who settled in the west in the 1800's. Yavapai County Line explores the physical, mental, and emotional challenges that confront human beings at home and abroad during times of war. It is the fictional account of one family and how they must pull together to survive under extraordinary circumstance. The novel centers itself around two cousins, L.J. Stewart and Elizabeth Hayden. While L.J. fights for survival during World War Two, Elizabeth is left alone with three small children.
The story opens in 1917; five year old L.J. is the youngest son of Jack Stewart, an elderly plainsman who's built one of the largest ranches in Yavapai County in Arizona. After the death of his father the boy is raised by his Lakota mother and much older brother on their ranch in the high plains of the Bradshaw Mountains. His cousin Elizabeth lives close by with her parents in Prescott, Arizona. After the unexpected death of Lizzie's mother, she is raised by an alcoholic father and Willimina Jefferson, her mother's closest friend.
In 1941, shortly after the bombing of Pearl Harbor Elizabeth's husband Frank volunteers for the Marines and she returns to teaching in order to support her family. L.J. is sent overseas and eventually stationed in England to prepare for the upcoming Normandy Invasion. He meets and falls in love with Katherine, a young Red Cross volunteer. As the battle that will determine the fate of Europe emerges these two lovers must cherish every moment spent together. It is up to all of them to rebuild once the inevitable damage is done.
Although this conflict is fought abroad, the lives of those left at home hang in the balance as well, just as they do today. Mothers, fathers, wives, and children wait while their loved ones fight for survival. It is their courage, love, and will to overcome adversity that bind them together.
More Great Reads: