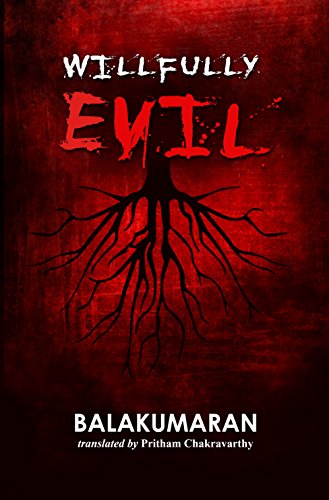 Willfully Evil : Balakumaran
Willfully Evil
Set during the chola period in southern India, Bhuvanapathi, a young Brahman in Kanchi, nurtures an unquenchable desire to take on a perilous journey to Kasi, in order to earn fame and wealth.
Having mastered all the survival skills, he sets on this journey to Kasi after his marriage. His greed makes him commit all forbidden sins during his stay in Kasi and to top it all, he lusts for another woman, Navagnani and lures her to marry him, lying that his first wife was dead.
Time goes by and Bhuvanapathy, now wanting to reap the benefits of his Kasi trip, plans to heads back to Kanchi. His only problem – his second wife and her younger brother Sivagnani, who wants to go with him.
Unable to stop them, he takes them along, all the while trying to make an evil plan to get rid of them.
Bhuvanapathi's male supremacy stoops low and does the unthinkable when they reach Thiruvelangadu. Little did he know that a woman's curse can span across births.
What happens next and how the legend of Pazhayanur Neeli came to be, is a riveting read.
Book Links
Facebook (publisher)
Zero Degree Publishing (India)
On Amazon India
On Amazon
More Great Reads: