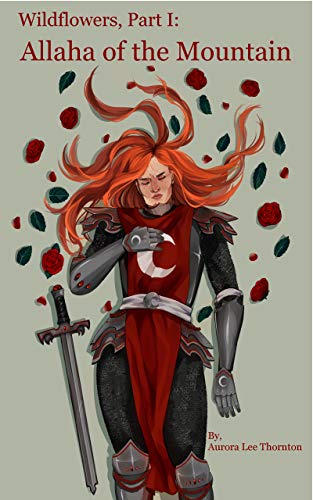 Wildflowers : Aurora Lee Thornton
Wildflowers, Part I: Allaha of the Mountain
Allaha is a knight of the Order of Aisha, Fallen of the Mountain. She – like her fellows – is stoic and reserved, trained to fight against demons and their ilk. When she triggers a vision that kills a renown oracle, she is set on a quest to complete the prophecy.
She becomes the protector of those mentioned in the prophecy.
Tamara is a young woman of the Menori – a migrant people that travel in caravans. She is also a hamalakh, able to sense the emotions of others as well as sense falsehoods. She is sometimes wise beyond her years, but at other times her youth can cause her to draw incorrect conclusions.
Hibu, a sorcerer, is from the country of Jeongwon – a land where the nobility are worshipped as gods. He was the personal sorcerer of Prince Ji – a testament to the strength of his powers. He is ever curious and seeking new knowledge, questioning all the people they meet on their journey. He is joined by his demon familiar, Goric.
Karejakal was orphaned by the death of his entire clan – but his mastak powers gave him the ability to keep their spirits close. Still a child, Karej is a Tibu – a race of cat people that walk upright. Learning of his people from the spirits of his clan, the child has adopted Allaha as his mother.
Together, they travel the land of Magdra, seeking answers to a broken prophecy wherein they only know two things – that a darkness is coming, and that they are meant to stop it. All they need to discover now is how to do it.
Book Links
Website
Facebook
Twitter
Goodreads
Amazon Author Page
On Amazon
More Great Reads: