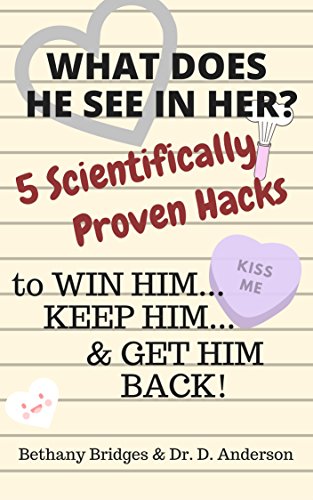 What Does He See In Her? : Bethany Bridges
What Does He See In Her? 5 Scientifically Proven Hacks to win him, keep him and get him back
Sometimes it makes NO sense who a guy will fall for.
She's not that pretty, cute, smart or even nice – so how has she ended up landing that high quality man? What has she got that you haven't.
Do you ever just ask yourself, What Does He See In Her! This book, the first from the writing team, Bethany Bridges and Dr. David Anderson, brings to light 5 Hacks supported by recent scientific finds, that will super-boost your attractiveness and appeal.
These 5 hacks can turn any women into the woman HE WANTS!
By examining case studies, emails and famous couples, Bethany and David have uncovered some truly ground-breaking results.
By being aware of the tactics many women use unconsciously to snare their lovers… your friends, boyfriends and even husbands, any woman can take back control and be the one to WIN Him, KEEP Him and GET HIM BACK!
More Great Reads: