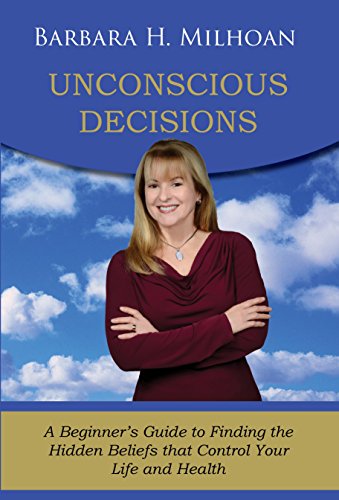 Unconscious Decisions : Barbara H Milhoan
Unconscious Decisions: A Beginner's Guide to Finding the Hidden Beliefs that Control Your Life and Health
If stress is the major cause of disease, what is the deciding factor in the type of disease that materializes?
Barbara was the picture of perfect health. There was no family history of cancer (so no "cancer gene" to be concerned about), and the numbers on her medical tests were better than most half her age. Yet two years after losing a dear friend to melanoma, she was diagnosed with the same chronic cancer. Everyone was shocked – except Barbara.
Five years earlier the universe had tapped her on the shoulder to dispute everything she had come to believe as true. She grew to know the power of the unconscious mind and its effect on the body. Age has a way of cementing the habits and beliefs that have long made themselves comfortable in the unconscious mind. Unaware of the consequences of such paradigms we go about our daily pursuits oblivious to their impact on our life.
Unconscious Decisions follows the passage of an ordinary woman through the turbulence of a changing mindset that was not accepted by those close to her; to a diagnosis of melanoma; and the realization that she had to change her beliefs.
The author takes the reader through the challenges she faced as she weaves the science and the knowledge of the experts with her own stories and the experiences of others. Barbara elicits the reader to unearth their own unconscious beliefs and fears and then offers several tools that can be used to change the unwanted, and possibly dangerous, paradigms.
Book Links
Website
Blog
Facebook
Twitter
Amazon Author Page
On Amazon
More Great Reads: