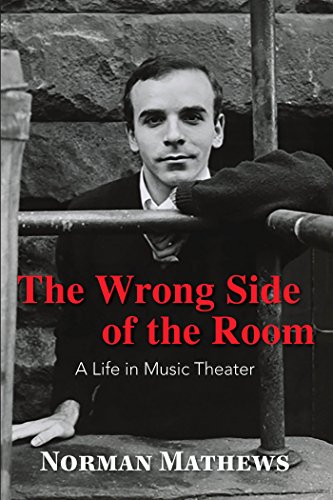 The Wrong Side of the Room : Norman Mathews
The Wrong Side of the Room: A Life in Music Theater
THE WRONG SIDE OF THE ROOM is one man's brutally honest tale of a harrowing journey to a life of love, music, and theater.
Psychological abuse by a priest and absurdly comic psychotherapy over his sexuality led to a failed suicide at age twenty. From the ashes of this calamity rose a staggering resolve to build a meaningful life.
Byzantine twists paved the way to a career as a magazine editor and eventually a life as a Broadway and movie dancer, working with Barbra Streisand, Dorothy Lamour, and Gene Kelly.
After an untimely injury, he reinvented himself as a pianist, composer, and playwright, creating award-winning works for top Broadway, opera, and concert-stage performers.
His passionate and inspirational autobiography is steeped in dark humor, hilarious celebrity gossip, and backstage intrigue. It is a rare book that can intimately describe a self-destructive trajectory, recount the grisly murder of a Broadway conductor, provide an inside look at the embezzlement of a famed Broadway producer, and give behind-the-scenes insights into the birth of new musicals and operas.
Mathews brings his colorful Sicilian-American family, his triumphs and heartbreaks, and his mine-strewn path to fulfilling love vividly to life.
Book Links
Website (author)
Website (composer)
Amazon Author Page
On Amazon
More Great Reads: