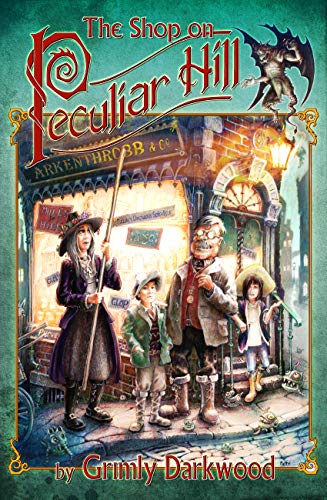 The Shop on Peculiar Hill : Grimly Darkwood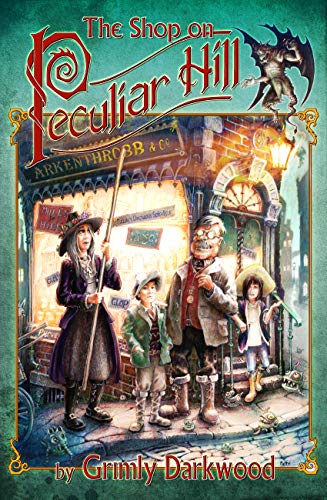 A funny, scary, mysterious fantasy adventure for children aged about 8 to 12 plus any adults who don't get frightened too easily. Book One in "The Vale of Strange" series. Warning: contains monsters!
When Peter's parents are captured by pirates and eaten by tigers, he comes to live with his aunt and uncle at their shop on Peculiar Hill, but he finds that he has an awful lot to learn. What are bogeys and heeble-greebs and the other fierce creatures which live in the nearby Vale of Strange? Why is it so important to wear a hat and sturdy boots? And what is this stuff called strangeness which comes bubbling out of the ground?
When Peter discovers the dark secret which lurks at the heart of this strange new place, he finds his efforts to make things better do not go according to plan. He sets out to make amends with the aid of his new friend Amanda, but how can he know that requesting her help will prove to be such a very big mistake?
Reviewers have compared The Shop on Peculiar Hill to books by Lemony Snicket and Philip Ardagh, and even to Harry Potter. The rhythm of the language makes it great for reading aloud and parents often find they enjoy it as much as their children do. The second book in the series, Stranger Days on Peculiar Hill, is also available now.
Book Links
Website
Facebook
Twitter
Goodreads
Amazon Author Page
On Amazon
More Great Reads: