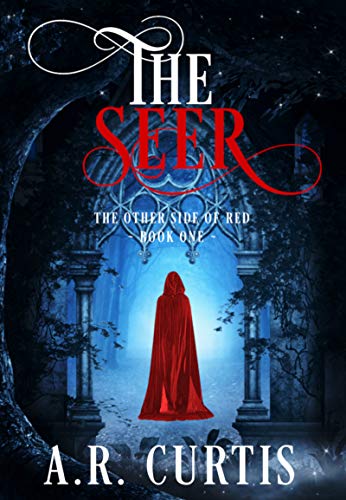 The Seer: The Other Side of Red – Book One : A.R. Curtis

Emily Hunts is no ordinary witch. She's not a true Hunts either, having been left here as an infant. No one knows about the things she sees: nymphs and fairies, mythical creatures, and vampires that lurk on the other side of red, where an epic world of darkness, order and castles exists. From this place, the one person she trusts the most escapes to see her. He is not who she thinks he is.
Every night, he visits in shadow, tutoring her in forbidden magic. Then one night, everything changes. And she's taken to the other side of red. As she discovers clues about her legendary birthright, she finds it impossible to escape this supernatural realm…alive.
"…an epic magical adventure into darkness…plot-wise, it reminded me of The Phantom of the Opera…A.R. Curtis crafts a lush narrative that weaves in a strong and convincing lore of magical powers, as well as a mythology of darkness and 'the other side' that was very exciting to read about. " -K.C. Finn, Readers Favorite
"The Seer is a very magical and interesting trip through a wonderful world of fantasy that intertwines all the mystical and mythological beings such as fairies, vampires, witches, wizards and demons…Curtis has taken the ideas hiding in legend, myth and fantasy and laced them together in a story line that continuously unfolds to something new. From fairies to mermaids and talking trees." -Amy Raines, Readers Favorite
"…mythical beings, spirits and shadows, creatures…legends and fears. Secrets, fear, truth, revelation, and magic weave an enchantment over the reader to keep them turning page after page…" – J.J. Simmill, Readers Favorite
"Harry Potter -esque air of magic…" – Caitlin Lyle Farley, Readers Favorite
Book Links
Website
Facebook
Twitter
Goodreads
Amazon Author Page
On Amazon
More Great Reads: