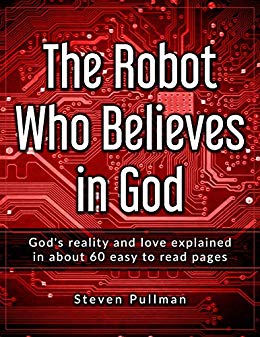 The Robot Who Believes in God : Steve Pullman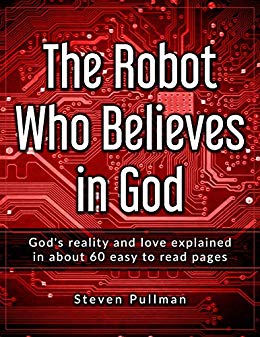 God's reality and love explained in about 60 easy to read pages
A highly complex surgical robot suddenly becomes self-aware and then proves that God exists to the no-nonsense non-believing heart surgeon he works with.
Do you have questions about God? Are you like the non-believing surgeon? Then this easy to read, one hour 60-page book will challenge what you believe.
Do you believe in the big bang theory?
You'll be amazed at how simply it's destroyed thru the ideas presented by Mat the self-aware robot. (Chapter 1).
Scientists with their unproven and baseless theories have made you think what they say is the truth.
You do know that you walk by faith every day, just like those who believe in God?
Thru one of the ideas discussed by Mat the robot, he proves that everyone walks by faith daily. (Chapter 6).
Faith understood allows you to see life clearer.
This quick read book is written for the reader who does not have a lot of time. It uses everyday ideas and simple direct conversations.
Bible knowledge is not needed nor will you see Bible quotations. Totally left out are churchy discussions about God. You will smile at some points and think carefully in many others. It will cause you to re-evaluate where you are in this life and think about that Jesus is calling…..
Included are 8 short accounts by people from 16 to 79 years old who talk about their walk with God. God has changed their lives because they saw his love and said "Jesus I need you".
God may be calling you to learn a clearer view of Him. Please, read this book it may set you free of chains you have or don't realize you have.
Book Links
Website
Amazon Author Page
On Amazon
More Great Reads: