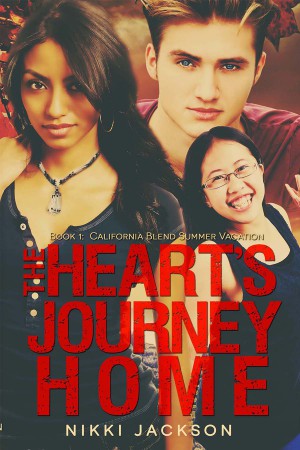 The Heart's Journey Home : Nikki Jackson :
The Heart's Journey Home : California Blend Summer Vacation
It's summer vacation, and all seventeen-year-old Tori Logan wants to do is hang out with her two best friends, practice her mixed martial arts and go to FBI spy camp.  Summer means freedom (mostly from adults) and Tori plans to fill every spare moment of her last summer before graduating from High School with all the fun things she and her best pals can come up with.
Tori, whose mom died of breast cancer when she was young, has always relied on her own strength to get by – especially because her Archeologist father tends to leave her behind with his live-in girlfriend while he gallivants around the world on digs.  Thankfully, Tori can take care of herself.  She knows exactly who she is and what she wants to do with her life. Her Lakota Sioux grandfather, a former Navy SEAL, trained Tori in self-defense from a young age.  Now, as a teenager, Tori excels at mixed martial arts and the use of various weapons.  During the summer she will be attending an FBI sponsored Summer Camp which she hopes will lead to her dream job – becoming an FBI serial killer profiler.
With her two best friends at her side, Tori believes she can handle anything.  And with summer vacation stretching before them, the trio plans to find plenty of adventure.
But while Tori is determined to be independent, life has other plans for this fierce young teen, and they include coming to grips with some hard – and surprising – truths about both her past and her future.
Book Links
Website
Amazon Author Page
On Amazon
More Great Reads: