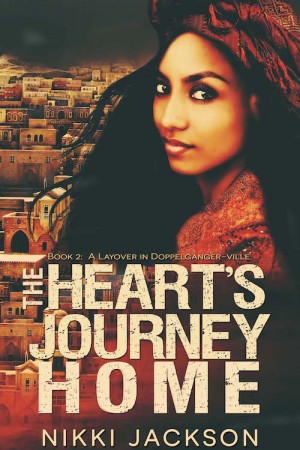 The Heart's Journey Home : Nikki Jackson
The Heart's Journey Home : A Layover in Doppelganger-ville
Picking up where The Heart's Journey Home: California Blend Summer Vacation leaves off, book two in the series follows seventeen-year-old Tori Logan as she and her best friends, AJ and Kalea, accompany Tori's archeologist father to Israel.
Tori Logan is used to her life looking a little different from the lives of other girls her age. She's also used to having plenty of adventures, so when she and her best friends see an excavated quarry in one of Jerusalem's most famous archeological sites, they waste no time checking it out for themselves. Adventurous and fiercely independent, Tori leads her friends into the quarry where they happen upon what appears to be a secret passageway. As the trio laughs and jokes, small rumblings turn into big quakes and the walls start to crumble around them. Kalea and AJ escape, but the site collapses before Tori can find her way out.
When she regains consciousness, Tori realizes she's traveled back in time to ancient Jerusalem. With her quick wit and drive to survive, she concocts a story about why she, a foreigner, is there and finds shelter with a widow woman named Judith – who looks exactly like her father's live-in girlfriend, Rachel.
As Tori encounters other people who are spitting images of loved ones back home, she must reconcile truths about herself with the hard realities about the situation in which she finds herself.  But will these lessons last once she's back at home?
Will she even make it home?
More Great Reads: