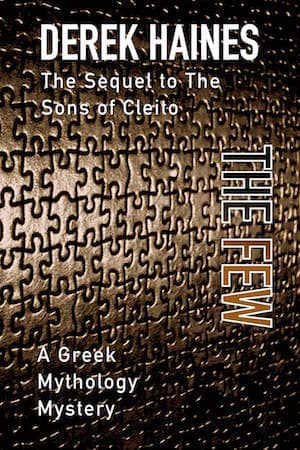 The Few : The sequel to The Sons of Cleito
Three months after his fortunate release, Langley Garret discovers that his abductions certainly were not a case of mistaken identity.
The sound of Chara's voice, returning from the dead, and interrupting him on an early morning walk starts his unwelcome return to the grip of the Sons, and finally the understanding as to why everyone has been so interested in him. He is the son of the leader of the group, and it is time for him to accept his duty, and to accept Chara as his consort.
Still struggling to understand and refusing to believe, it is only when he and Chara narrowly escape an attack on his apartment that the reality starts to dawn on him. There are those, who he comes to know as The Few, who do indeed want him, but now want him, dead.
When he is taken yet again against his will, but this time without being drugged and restrained, he travels to Lake Como to meet his father, Kratos, and discovers that his own death could well come from either side unless he accepts his destiny. His father warns him that he would kill his own to protect the Sons. Langley's record of bad luck doesn't improve, and he has little time to think about his own fate as he is swept into a world of power, money, lies and deceit.
It is only when an old enemy becomes his friend that Langley sees a glimmer of hope at the end of his tunnel of desperation. However, even more danger lurks for Langley as he tries to decide who he can trust.
Book Links
Website
Facebook
Twitter
Amazon Author Page
On Amazon
More Great Reads: