The Brangus Rebellion : R.R. Corvi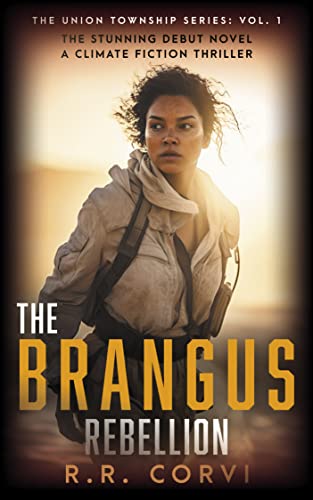 The year is 2334.
The Civil Wars and the climate-forced Bad Days are two centuries gone. People–descendants of the few survivors–try to forget them. Mostly they succeed. But oblivious people caused the Bad Days once, and they could do it again. The North American Union's highest purpose is to prevent this, squashing stupidities that might spark a catastrophic relapse. It's a heavy lift. People can be awfully stupid.
As a rookie cop in the Union's national police, Lani Maxwell would normally be devoting herself to this mission, and doing it pretty well. She's smart and charming, Lani is, and it's not wise to mess with her in a fight. But she's now on probation for a mistake that anybody could have made. Stuck at a desk, doing glorified stamp licking. With patience, Lani could wait out her boring punishment and get on with life. Patience, however, is not her style.
Fact is, Lani should count her blessings. In her rush to do something (anything!) she will soon stumble into a plot. It's a selfish scheme devised by arrogant, high-placed citizens who have forgotten that rules apply to them. Although their plan may seem stupid, it will test Lani's loyalties as it threatens her society and everything she loves. It is a conspiracy that will make her life very complicated. Or perhaps just very short.
Which? It all depends on her.
Book Links
Amazon US
On Amazon – UK
On Amazon – CA
On Amazon – AU
On Amazon – FR
On Amazon – ES
On Amazon – IT
On Amazon – NL
On Amazon – JP
On Amazon – BR
On Amazon – MX
On Amazon – IN
More Great Reads: