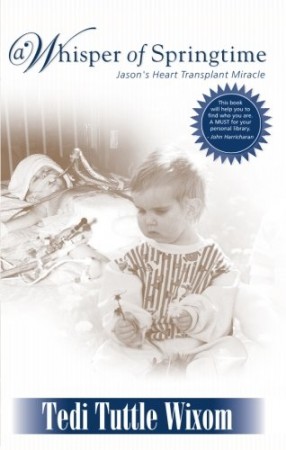 A Whisper of Springtime : Tedi Tuttle Wixom
A Whisper of Springtime: Jason's Heart Transplant Miracle
How would you react if your baby lapsed into a seizure and stopped breathing?
On the verge of death due to an inherited heart disease, a miracle occurs for Jason!
Transported by LifeFlight from Salt Lake City, Utah USA to Southern California, he receives a two-year-old child's heart during a midnight surgery. This detailed narrative of an infant heart transplant at Loma Linda University Medical Center (LLUMC) will ignite a flame in the very core of your soul.
A Whisper of Springtime leads us through our deepest emotions with courage, hope and faith. This book will help you to find who you are. A MUST for your personal library. – John Harricharn – Atlanta, Georgia. Award winning author of the bestseller When You Can Walk on Water, Take the Boat.
Book Links
Books For All Ages
Blog
Myspace
Amazon Author Page
On Amazon
More Great Reads: