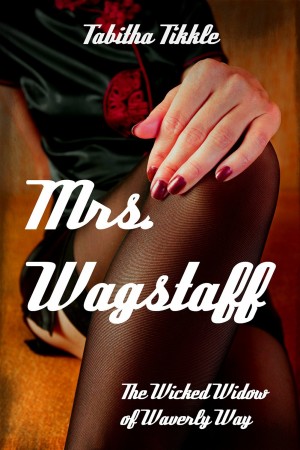 Mrs. Wagstaff : Tabitha Tikkle
Mrs. Wagstaff: The Wicked Widow of Waverly Way
How she became the "wicked widow" of Waverly Way, was a tale that Jane Wagstaff often liked to ponder. She never could have imagined when she was growing up in a small Midwestern town, that one day, she would be the most sexually infamous woman in the world––her carnal exploits discussed from coast to coast.
She never would have believed that she would bed hundreds, if not thousands, of men. That women all over the globe would look to her for guidance in finding sexual satisfaction. That inexperienced young men would call on her to guide them through their first sexual experience. But it was all true.
Long before she married Harold Wagstaff––her sexual soulmate and CEO of Wagstaff Industries, the world's largest manufacturer of adult novelties––Jane had set her sights on a life of sexual adventure. Long before she moved into the glorious Wagstaff mansion on exclusive Waverly Way, she was an expert in all things erotic. And long after her beloved husband's death after many wonderful sexually-satisfying years of marriage, Jane Wagstaff was still going strong. Yes, "Wicked Widow" was definitely an appropriate description for Jane Wagstaff, and she worked hard to live up to her naughty reputation.
This short novella is the first in the MRS. WAGSTAFF humorous erotic series.
Book Links
Twitter
Amazon Author Page
On Amazon
More Great Reads: