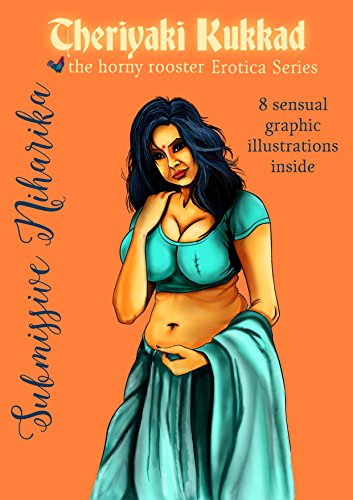 Submissive Niharika : Theriyaki Kukkad
Submissive Niharika (Theriyaki Kukkad aka "the horny rooster" Erotica Series)
For Nishikanth, sex plays in the mind. How he wants to do it plays over and over again in his imagination. He picks these ideas from his subconscious mind which lie dormant only to erupt from time to time. It could be a book he has read years ago, subtle in-between-the-lines that he might picked up from a conversation or the look of a woman. He is an impressionist in that sense.
Years ago he had read a short story "Boo" (Smell), written by a maverick Indo-Pakistani writer, Saadat Hasan Manto. Manto used to pen stories with explicit scenes of primal sex. Nishikanth also remembered a conversation between him and his man-Friday, Ramswaroop. This conversation was about the village sex life, about men who spend the entire day in hard labor and only play by their natural instincts when it comes to sex. How do they do it?
Marrying the two, Nishikanth had this desire of sex that came to fruition when he meets Niharika, a fellow journalist, who he meets in a village in Southern India. Niharika is voluptuous and has her own needs to satisfy. Nishikanth finds a perfect partner in her to satisfy his needs, physical and intellectual. It's always a mind game.
"Submissive Niharika" is an Indian Erotica that not only deals with sex but also the "subject" of sex. Read it to find out how and what plays in the character's mind. It's a literary learning of human nature too in an Indian context. Maybe it will tantalize your dormant desires too. I have included eight original works of graphical illustrations to supplement this beautiful story that I have so passionately written. I hope you will enjoy reading it as much as I enjoyed writing it.
More Great Reads: