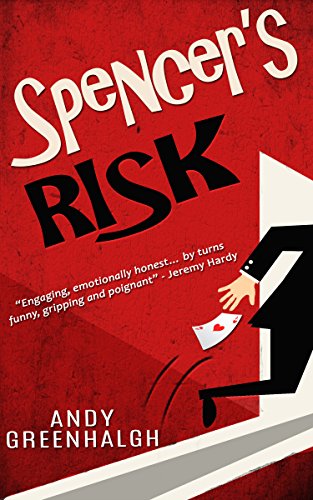 Spencer's Risk : Andy Greenhalgh
Spencer's Risk
SPENCER'S RISK is a dark comic novel.
Burnt out and broke, university Drama lecturer Spencer Leyton is a compulsive gambler, estranged from his wife and children and driving his career over a cliff.
His some-time friend Justin invites him to a high-stakes poker game. ('Justin could sell snow to the Eskimos – literally. For some months he had sold cocaine to the Inuit community in Copenhagen'.) The game ends with Spencer owing £10,000 to Paula Malone, the head of a criminal gang.
At work, Spencer is sexually obsessed with a wealthy and glamourous student called Eva. She commits plagiarism, an offence usually punished by expulsion, but bribes him with £3000 to keep quiet about it. Spencer has inside information about a football game, so he bets the £3000 on it, and that is when things really start to go wrong…
"Engaging, emotionally honest… by turns funny, gripping and poignant" – Jeremy Hardy
"Spencer Leyton is a hapless and hopeless man, seemingly bent on self-destruction – yet, somehow we can't help rooting for him. A poignant, funny and pointed novel. I loved it" – Rosie Fiore, author of After Isabella and What She Left.
"This is one of those books that you find yourself wishing would never end" – Amazon Reviewer
"A terrific debut. The title character is a walking train wreck, but somehow Andy Greenhalgh makes you root for him even as you despair at his inability to to see a hole without walking immediately into it. The novel has a serious side, with a lot of astute observations about life and relationships and, most notably, the nature of addiction. But it's the sublime comic moments that stick in the memory." – Amazon Reviewer
Book Links
Facebook (author)
Facebook (book)
Linkedin
Goodreads
Amazon Author Page
On Amazon UK
On Amazon
More Great Reads: