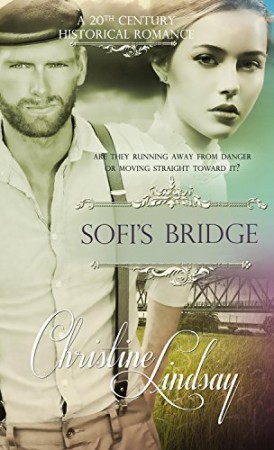 Sofi's Bridge : Christine Lindsay
Sofi's Bridge
Seattle Debutant Sofi Andersson will do everything in her power to protect her sister who is suffering from shock over their father's death.
Charles, the family busy-body, threatens to lock Trina in a sanatorium—a whitewashed term for an insane asylum—so Sofi will rescue her little sister, even if it means running away to the Cascade Mountains with only the new gardener Neil Macpherson to protect them.
But in a cabin high in the Cascades, Sofi begins to recognize that the handsome immigrant from Ireland harbors secrets of his own. Can she trust this man whose gentle manner brings such peace to her traumatized sister and such tumult to her own emotions?
And can Neil, the gardener, continue to hide from Sofi that he is really Dr. Neil Galloway, a man wanted for murder by the British police? Only an act of faith and love will bridge the distance that separates lies from truth and safety.
Book Links
Website
Facebook
Twitter
Amazon Author
On Amazon
More Great Reads: