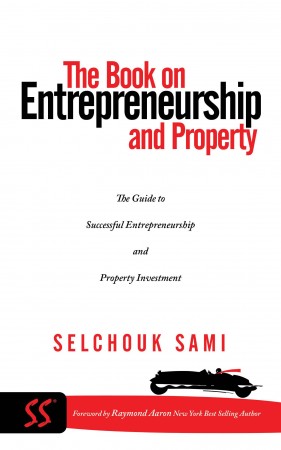 The Book On Entrepreneurship and Property : Selchouk Sami
The Book On Entrepreneurship and Property
The book taps in to the fundamentals of the entrepreneurial spirit.
In eight concise chapters totaling just over 130 pages, "The Book on Entrepreneurship and Property the Guide to Successful Entrepreurship and Property Investment" illustrates how entrepreneurship has developed and impacted society over the years by reviewing the industrial revolutions that have set the framework for modern economic development and then takes a look in to the future with the Third Industrial Revolution.
It next moves on to list ten of the greatest entrepreneurs of all time and identifies how they have achieved their success. There is nothing better than learning from the best to awaken the entrepreneurial spirit.  For the property investor there is a Chapter on legal and practical concerns.  The entrepreneurial mind can be applied to acquire a property for as little as £1 which is addressed in a Chapter.  This is the first book in the UK written by a lawyer to discuss the creative tool known as instalment contracts.  By the time you have completed this book, you should be equipped with the fundamentals to enable you to decide what your next move in business is going to be; whether it is to find the right business partner or to seek advice from an expert.
Chapter 7 elaborates on the finding by the Global Entrepreneurship Monitor (GEM) that entrepreneurship globally is on the rise and that entrepreneurship, is the best hope for stimulating a weakened world economy.
Book Links
Website
Blog
Twitter
On Amazon
More Great Reads: