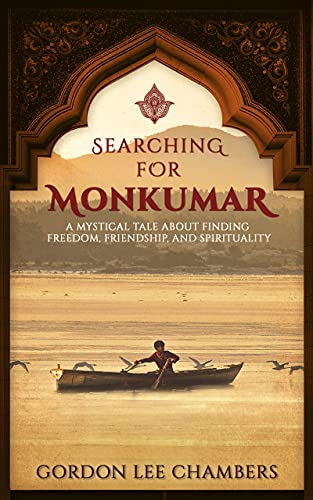 Searching for Monkumar : Gordon Lee Chambers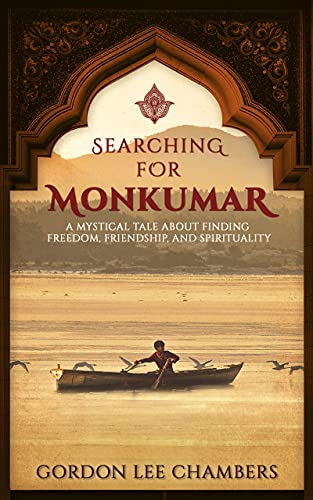 Let me entice you on a journey through India in search of Monkumar; this book could just open your eyes and add spice to enrich your life.
This beautiful tale woven around the mighty Ganges River will immerse you in a world that is overflowing with adventure and a melody of ruby reds, precious purples, gleaming greens, and glittering golds.
Every so often, an unforeseen event will dramatically change the course of your life. Follow a young man, who leaves behind his old existence after just such an unexpected encounter.
With his new sense of purpose, the young man, Agamani, slips easily into his mission to find meaning.
Together with a new-found elder and mentor Kamesh, Agamani, heads out on an inspiring life journey that presents him with essential lessons around living friendship, learning to love properly, and dealing with death.
This novel will guide you through a culturally rich and diverse society. You're bound to be stimulated by the mosaic of vivid colours and scintillating soundscapes. You will certainly be gifted with attention-provoking encounters.
Take a bold step to join these two mendicant mystical minstrels on their pilgrimage in search of Monkumar, an adventure about freedom, friendship and answers to some of life's deeper questions.
The arduous aspects of their pilgrimage take a physical toll on the older of the two friends. Will he complete his quest Reservations remain as to whether Agamani's support and friendship is enough to help Kamesh reach the source.
If you like the sounds and the serendipity of India, you'll love this fascinating tale by Gordon Lee Chambers that combines ancient mysticism with the challenges of the modern world.
Book Links
Website
Facebook
Instagram
Amazon Author Page
On Amazon
More Great Reads: