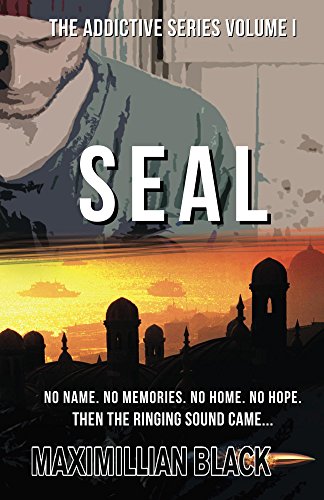 Seal
WELCOME TO A WHOLE NEW GENRE IN FICTION.
BORED WITH THE MUNDANENESS OF LIFE?
NEED A PICK ME UP?
THEN DON'T MISS OUT ON THIS GREAT NEW TITLE.
IT WILL HAVE YOUR TASTE BUDS SALIVATING LIKE IT'S YOUR FINAL MEAL ON DEATH ROW AND YOUR IMAGINATION DOING MORE CARTWHEELS THAN A CHEERLEADER ON COKE (THE SOFT DRINK THAT IS).
WORK, YOUR SIGNIFICANT OTHER, THE CHORES – YOU CAN FORGET ABOUT THEM. ALL THAT WILL MATTER IN YOUR LIFE UNTIL YOU HAVE READ THE FINAL WORD IN THIS NOVEL WILL BE THIS NOVEL.
SEAL IS PART OF AN UPCOMING SERIES. HOWEVER IT CAN EQUALLY BE ENJOYED AS A STAND ALONE BOOK (IF YOU CAN RESIST THE FOLLOW UPS THAT IS).
THIS IS A BREATHTAKING COCKTAIL OF THRILLING SUSPENSE, ADVENTURE AND THE SUPERNATURAL THAT WILL HAVE YOU CRAVING FOR YOUR NEXT FIX.
SO BUCKLE UP AND ENJOY THE RIDE!
NO NAME. NO MEMORIES. NO HOME. NO HOPE.
THEN THE RINGING SOUND CAME…
Step into my world.
A world where nothing is quite as it seems.
I know I should give you a resume of the story but that plain bores me. And at the end of the day I would rather be scared to death than bored to death. So you're not getting one. Instead I'll give you glimpses into the MIND BLOWING world that lives in the pages of this book and let you decide whether you should take a punt on this arrogant, albeit charming author, or just laugh him off as a crazy person and spend your hard earned cash elsewhere. The problem is, this book is packed with so much brilliance I just don't know where to begin. Here goes!
EXCERPT 1
The adrenaline was surging through his body like a juggernaut; an unstoppable force that would not let anyone die today. He grabbed tables and chairs and threw them aside like they were made of matchsticks.
EXCERPT 2
Bodies were scattered everywhere – lifeless, blood soaked carcasses strewn across the bridge like discarded pieces of Chicago litter. He could see her in the distance. She was the calm amongst this storm. Was this another dream? He hoped so, and longed to be wakened, even if it meant another sharp kick to the face.
EXCERPT 3
Getting to his feet, he dusted himself off. The now yellowed walls were covered in black mold; there were large mushroom like things growing in the corridor – like aliens lying dormant until it was their time to hatch.
EXCERPT 4
"Give me a sign, any sign," he muttered, hoping and praying that someone, somewhere was listening. Suddenly. Out of the darkness. A motorbike roared past ridden by a figure wrapped in a black cloak.
EXCERPT 5
As he wiped away the condensation from the cold, steel surface, he could barely recognize his own reflection – he no longer existed. Placing the blade on a jugular vein in his neck, the cold steel felt satisfying – peace was only seconds away.
More Great Reads: