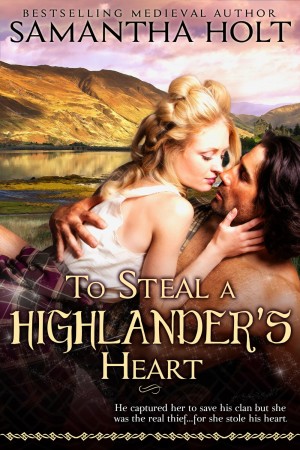 To Steal a Highlander's Heart : Samantha Holt
To Steal a Highlander's Heart
Alana sets eyes on Morgann for the first time in several years and what does he do? He captures her! But Alana refuses to go meekly with the sexy Highland warrior. Her kidnapping will reignite the rift that's existed between the two clans since her father accused Morgann of theft and she doesn't want to see her father harmed in the inevitable war that will ensue.
Unfortunately for Alana, the faeries seek to interfere with her plans to escape. The sidhe have a debt to repay and Tèile, the green faery, is determined to mend the rift between the clans for good. And that means ensuring Alana and Morgann marry.
Morgann has his own reasons for taking Alana and they are nothing to do with marriage or war. He wants to use her to reveal a secret from the past, the one that had him accused of theft. If only he didn't find his childhood friend so attractive. When circumstances force them together, Alana's life is threatened and war is imminent. Can Morgann reveal the truth without losing Alana? And will the faery's meddling help or hinder his cause?
Book Links
Website
Blog
Facebook
Amazon Author Page
On Amazon
More Great Reads: