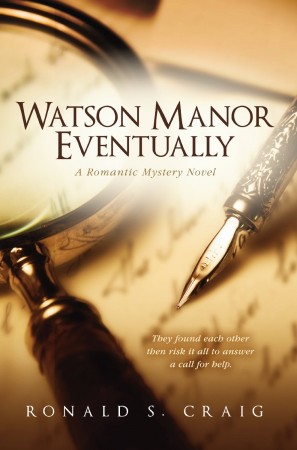 Watson Manor Eventually : Ronald S. Craig
Watson Manor Eventually
Watson Manor Eventually is the first book in a romantic mystery series.
Jenny Stevens is a dedicated teacher with a passion for nurturing young hearts and minds in a small town middle school. She is caring, trusting and open to the world. Too trusting, it turns out, as she is ultimately forced to leaving the teaching job she loves in order to escape an increasingly abusive boyfriend who won't respect a restraining order. Her trust shattered, she engineers a tenuous flight out of state.
Charlie Watson ("CW") is an enigma to strangers, but an open book to his few dear friends. Honest to a fault, ruggedly handsome and tough as nails on the outside, Charlie hides a deeply wounded heart. Seven years into a bitter divorce, he has made a lifestyle escaping behind endless hours as a long-haul trucker, and copious one night stands – which leave him in an empty, quiet desperation.
But Fate ultimately draws these two battered souls together until try as they may, they cannot remain apart. At first they rediscover their sense of humor, and then slowly, haltingly, their trust in true human kindness. Love almost does not come to pass, but they soon realize they are truly soul mates with a shared dream.
Their journey is not easy or straight. Along the way, Charlie is forced to deal with the abusive ex-boyfriend, and makes short work of him. But the challenges do not end there. On the way to establish their new life at 'Watson Manor' fate keeps dealing them new cards. Through a series of chance events and encounters, Jenny and Charlie are led on a new life of adventure and service rescuing souls in trouble and re-uniting families before they can even think of forming their own.
The deliciously complicated plot will have you alternately puzzled and perched on the edge of your seat. It is filled with good guys and bad guys (and gals) and characters who muddle in the middle. In the end Charlie and Jenny come to truly know whose side they are on – each other's.
If you like a good romantic mystery, you will love and devour this book from cover to cover and be chomping at the bit for Ron Craig's sequel, Watson Manor Unfolding, soon to come!
Book Links
Website
Twitter
Goodreads
Amazon Author Page
On Amazon
More Great Reads: