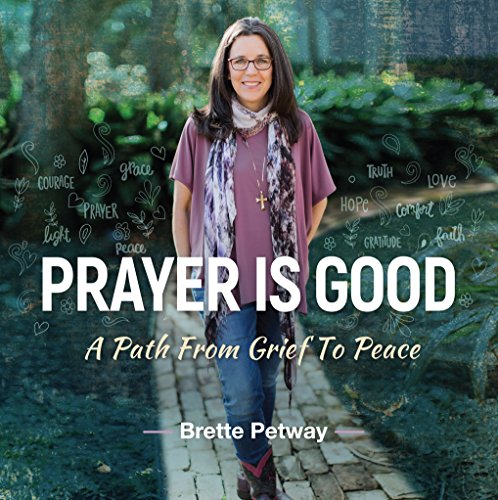 Prayer is Good : Brette Petway
Prayer is Good: A Path from Grief to Peace
Prayer is Good: A Path from Grief to Peace is ideal for someone who is dealing with emotional pain and offers positive coping techniques. Brette Petway, prayer positive activist and artist, opens up about her own story of grief and loss and invites you into the world of "healing art." Brette shares interactive ways to pray and experience your personal conversation with God creatively through art and intentional journaling. Feel the healing miracle of prayer and nurture your beautiful self through your senses. Take a prayerful journey with your head, heart, and hands and overcome emotional pain in a positive and healthy way.
If you or someone you know is experiencing negative emotions resulting from divorce, depression, pet loss, job loss, death of a loved one or a stressful family life, then, Brette Petway's, Prayer is Good, A Path from Grief to Peace, is an excellent resource. Her new book contains inspirational words, a scripture from the Bible, blank pages for journaling, and creatively designed featured words such as Peace, Thankful, Comfort and many others that can be colored. Truly, this is an interactive book that can be used for prayer, sharing your thoughts with God, and used as a workbook to deal with troubling times.
What makes Prayer is Good, A Path from Grief to Peace inspirational?
• Interactive product – you can write, color, draw, and journal in the book.
• Promotes prayer positivity, gratitude and daily devotionals.
• Helps relieve the pain and anguish from loss, grief, stress and/ or depression in a positive and healthy way.
• The book can be used to share with family or friends who want to pray together or color inspirational words together.
• The thoughtfully designed blank coloring cards are on thick stock that can be removed or framed.
• The book contains ideas for bringing peace and comfort to your home by decorating a table space with flowers, a calming stone, candles, an inspirational card and/ or scripture.
Nurture yourself through your senses and feel empowered as you disconnect from the digital world with Prayer is Good, A Path from Grief to Peace. Feed your spirit with prayerful pauses, gratitude, "Altar-ations" that will stimulate your senses with through collaging, painting and journaling to unravel whatever is tugging at your heart. Calm your mind and soothe your soul as you take control of your well-being, and move down a path toward comfort and peace.
2018 SILVER MEDAL WINNER – LIVING NOW BOOK AWARDS
"…4 out of 4 stars" — Online Book Club
"…Speaks directly to the heart and soul of the reader." — Midwest Reviews
"Delightful, Healing and Inspiring" — Dr Mary Oz
Book Links
Website (author)
Website (social media)
Website (book)
Facebook
Amazon Author Page
On Amazon
More Great Reads: