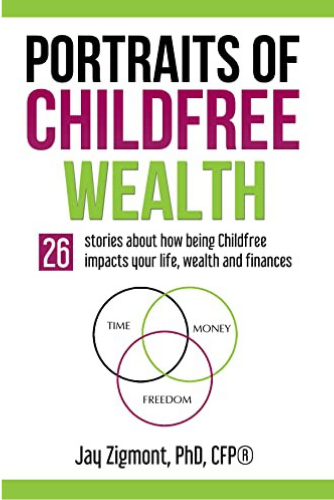 Portraits of Childfree Wealth : Jay Zigmont, PhD, CFP®
Have you ever wondered what people without children do with all their free time and money? Do you assume that they must have a lot of both? The truth is more complex than that! Childfree people come from as many different backgrounds and life circumstances as people with children do. Some are partnered, and some are not. Some are well-educated, some aren't. Some are independently wealthy, and some are just scraping by. Dr. Zigmont's "Portraits of Childfree Wealth" is a collection of 26 vignettes based on interviews with Childfree people. He adds his own significant insights, as both a fellow Childfree professional and a CERTIFIED FINANCIAL PLANNER™. This book is an eye-opening look at the lives of people in the United States who deliberately chose not to become parents, and if you're in the same boat, you'll find a lot to relate to here. If you have children, you'll learn how the other half lives. And if you're a finance professional, you'll see how money still plays a role for people who don't have to worry about leaving assets to their children.
In Portraits of Childfree Wealth, Dr. Jay Zigmont, CFP®, interviews 26 individuals and couples to understand their lives. Each portrait provides a different perspective on Childfree Wealth from a diverse population across the US. There are stories from people who are barely making ends meet and others who have achieved FIRE (Financial Independence, Retire Early) or FILE (Financial Independence, Live Early). Being Childfree does not automatically make people rich, as we still suffer from income disparities. The difference is that if a Childfree person is barely making ends meet now, they would have drowned if they had a child.
Some key findings:
• The reasons for being Childfree are as varied as the people themselves.
• There are very few or no regrets from people being Childfree.
• Being Childfree does not automatically make you rich.
• There is a relationship between growing up in poverty and poor and being Childfree.
• Childfree Financial Independence is simple: 1. Get out of debt 2. Max out retirement plans.
About the Author, Jay Zigmont, Ph.D., CFP® Dr. Jay, and his wife are Childfree and live in Water Valley, MS. He has a Ph.D. in Adult Learning from the University of Connecticut and is a CERTIFIED FINANCIAL PLANNER™ and Childfree Wealth Specialist. He is the founder of Live, Learn, Plan, and Childfree Wealth, a life and financial planning firm specializing in helping Childfree Individuals. He has been featured in Fortune, Forbes, Wall Street Journal, CNBC, Business Insider, Woman's World, Investors Business Daily, and many other publications. Visit Childfree Wealth at https://childfreewealth.com.
Book Links
Website
LinkedIn
Facebook
Amazon Author Page
On Amazon
More Great Reads: