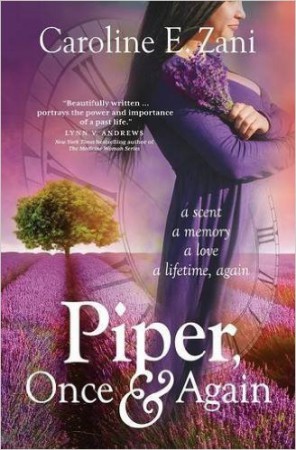 Piper, Once and Again : Caroline E. Zani
Piper, Once and Again
What do your memories smell like?  Do you know things no one has taught you, missed someone you've never met or lived a life before this one?  Read the book Publishers Weekly calls, "Compelling."
Longing for something just beyond her grasp… A successful equine insurance agent living in 21st century Massachusetts, Piper struggles with relationships, patience, scents, and living in 19th century France.
Through tragedy, betrayal and a mother's religious-driven fear, Piper must learn to intuitively understand the messages all around her. The scents of burnt raisins, freshly washed baby skin and the ethereal lavender fields of Provence, France reach out from a century ago to guide her on a journey she wasn't aware she was on. And those shards of memories that ride on those scents – Friesian horses, a cradle in the corner of loft, an old man inhaling the scent of perfume on pristine white gloves – what could they possibly mean?
Follow Piper on this enlightening spiral through time, unconditional love, unbearable loss, unbelievable discovery, and a question of forgiveness, as she tries to find the one man who can help her unravel this tapestry woven before she took her first breath.
See why she is indeed Piper, Once and Again.
More Great Reads: