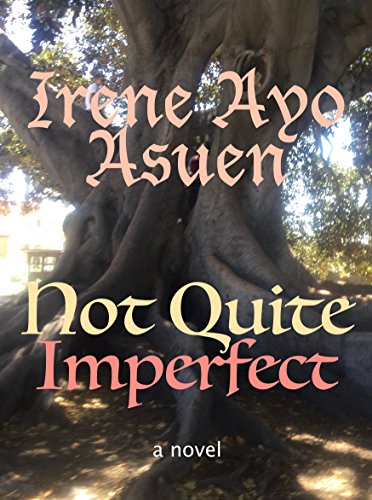 Not Quite Imperfect : Irene Ayo Asuen
Not Quite Imperfect
Not Quite Imperfect is a character-driven, drama-filled story that explores human connection, tragedy, betrayal, survival and redemption.
At age 35, Ian Sharp, a tall, handsome, African-American man with lean athletic features, was well aware of his good looks and irresistible charisma because he usually counted on them to get him out of life's sticky binds. More importantly, these attributes were his gifts to women. That is, until he met Kendra Mercury, and everything became, well, complicated. From the moment that Ian spotted Kendra as she was crossing the street on Sunset Boulevard in Los Angeles, he had chased her relentlessly until she agreed to be his. But their relationship was not that simple. Kendra tested him. She challenged him, she drove him crazy, she loved him, she confused him, she tolerated him and damn, she was quite the stubborn woman. Ian Sharp was not used to this…
Kendra Mercury, 33, was a slender, beautiful, African-American woman of average height; slightly flared nose and a crooked smile that revealed a slight gap between her two top teeth. Kendra had the right outlook to life and an engaging personality. By anyone's standards, she was the total package. Men constantly made passes at her but it was Ian that made her heart soar. After Kendra met Ian, the "smart, logical" Kendra that friends and family had always known, had morphed into, well, someone else. But the way Kendra saw it, "no one knew Ian like she did…"
Ian and Kendra were magical together but their relationship was more than a tad complicated. You see, Ian never pretended to want children, and because Kendra loved Ian, she pushed aside her own desire to be a mom for years…until Liana happened, and Kendra could no longer deny her own desires. Of course Ian was pissed and demanded that Kendra make a decision. Kendra did, and walked away from him.
Unfortunately, without Kendra, Ian's world had not been not 'normal' since they broke up. So after seven years apart, and unable to get her out of his head, Ian bulldozed his way back to Kendra's life in the worst possible way: blackmail. But by the time Ian resurfaced into Kendra's life, Peter Rite had already become a huge part of her life because two years after breaking up with Ian, while minding her business in a midtown Manhattan café, Peter Rite happened …
Peter, a book cover designer from Brooklyn, was six years Kendra's junior, five feet, ten inches tall, and handsome. Yep, Peter was definitely easy on the eyes. When he spotted Kendra in the café, he just knew she was the face of his heart…
There was no denying that Peter and Kendra had quite the effect on each other or that Kendra and Ian were each other's drug of choice despite their years apart and complicated history. While Peter exuded quiet confidence and authority, Ian's presence and charisma could almost be touched. It led to one big complicated mess. But of course there was still the matter of Liana…
Rejected by the man that gave her life but accepted by another that loved her like his flesh and blood, Liana was in the middle of the triangle that was Kendra, Ian and Peter for different reasons. However, all their issues took a turn one day when life threw everyone a curveball as Peter's destiny is decided, Kendra looses the will to live, Liana's ability to ever live a healthy, normal life again hangs in a balance, Ian finds himself in a unique position of having to make a life-changing decision that could finally connect him to the daughter that he once wished was never born, and everyone else in-between, is left reeling from the effect of the whole situation.
There is more to the story…
Book Links
Website
Facebook
Twitter
Goodreads
Amazon Author Page
On Amazon
More Great Reads: