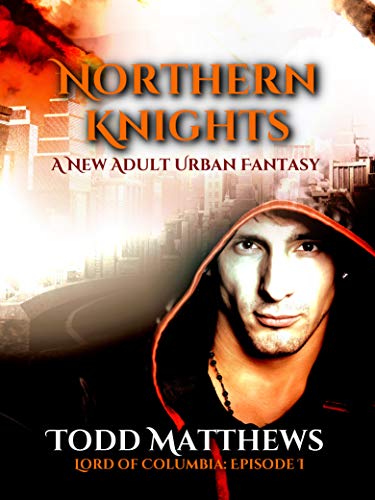 Northern Knights : Todd Matthews

Northern Knights: A New Adult Urban Fantasy (Lord of Columbia Book 1)
One Hero's Fight for Freedom.
Cain Riscattare never thought he'd lead the South Columbian colonies in their battle against an imperial police state known as the Southpoint Empire.
A college athlete gifted in sports and controlling the classical elements, Cain's only concerned with becoming a pro athlete and living a life of luxury. But when a military draft threatens Cain's freedom and athletic career, he's cornered into either fighting for Southpoint or fighting against them.
When Southpoint soldiers and law enforcement raid South Columbia to round up any potential draft dodger, Cain and his college teammates spark a rebellion using their element-control abilities.
Now fugitives, Cain and his friends flee South Columbia to the unoccupied region of North Columbia, where they undertake their senior year at Summit University.
Upon discovering several rival students are working undercover as Southpoint spies in North Columbia, it's a matter of time before Southpoint advances northward.
As open warfare erupts in South Columbia, Cain and his friends balance athletics while working with top North Columbian leaders to defend the land from Southpoint invasion.
Will they succeed in keeping Southpoint from overrunning the North?
Northern Knights is the first book in the new adult, urban fantasy series Lord of Columbia. If you like modern-fantasy, open warfare, liberty versus tyranny, and a diverse cast of compelling characters, you'll love Cain's incredible journey from athlete to rebel as he battles for his peoples' fate…
Book Links
Amazon Author Page
On Amazon
More Great Reads: