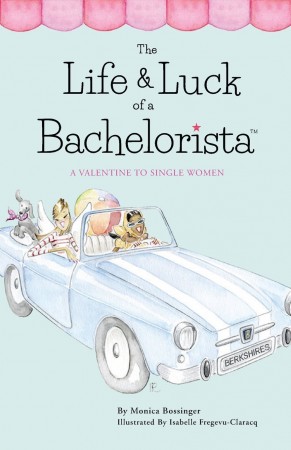 The Life & Luck of a Bachelorista : Monica Bossinger
The Life & Luck of a Bachelorista
Pour yourself a glass of wine, find the most comfortable nook in your home and kick off those heels. The Life & Luck of a Bachelorista is the highly entertaining playbook for blazing through your single years like a rock star.
Ms. Bossinger's tell-all will have you laughing at the get-go, nodding your slightly tipsy head, and appreciating your single life in a brand new way. She defines what it means to be a Bachelorista, while shedding light on the not-so-pretty stigma of being single in the 21st century.
Between powerful antidotes, savvy advice, skillful repartee, and charming illustrations by the talented French artist, Isabelle Fregevu, The Life & Luck of a Bachelorista humorously chips away at in-the-box-stereotypes that attempt to suffocate single women.
Filled with insightful reasons why you should celebrate your life, and let go of silly timelines, Ms. Bossinger's super-empowering dialogue is like a shot of confidence from your best girlfriend.
Whether you believe marriage is the ultimate elixir, or you couldn't care less about walking down the aisle, you can't help but read this book in one sitting – and when you do, you'll get a definite sense she wrote it just for you.
Book Links
Website
Facebook
Twitter
Amazon Author Page
On Amazon
More Great Reads: