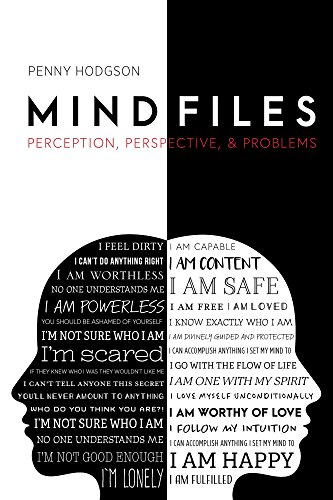 Mind Files : Penny Hodgson
Mind Files: Perception, Perspective & Problems
Our perceptions become our perspectives, and our perspectives can become so rigid that they create problems in our lives.
Perception, Perspective & Problems takes a look at the mind's process of using the past as a reference in understanding what we are currently experiencing, and how that process interferes not only with the present, but the future as well.
Delve into the filing cabinets of your mind, and learn how the conclusions you formed at the end of each and every experience created expectations, and why those expectations are at the root of all your unhappiness. Discover how to live the life you were meant to by reviewing, re-assessing and re-writing the files in the filing cabinets of your mind.
Learn the importance of reconnecting with God, however you choose to define Him/Her, and find out how the Holy Spirit communicates with you.
Uncover the importance of forgiveness and how forgiveness really does set you free.
​
​Regain your personal power, learn to love unconditionally, and finally live the life you were meant to live!
Book Links
Website 1
Website 2
Facebook
Twitter
Amazon Author Page
On Amazon
More Great Reads: