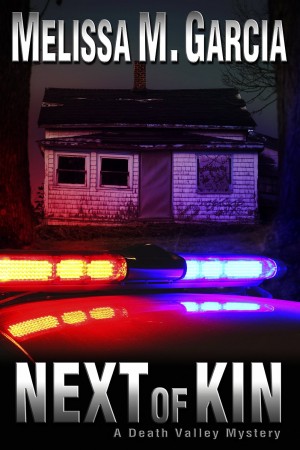 Next of Kin : Melissa M. Garcia
Next of Kin (Death Valley Mystery Book 2)
As Homicide Detective Will Stellar comes to grips with his brother's recent incarceration, he's called out to the murder of a childhood friend. His investigation leads him to uncover secrets that could take down the Lake City Police Department and force him to walk a tightrope of politics and civic responsibility.
Troubled by the stall tactics that has allowed criminals to live in the quiet desert city, a vigilante, dubbed the Coyote decides to take matters into his own hands. He leaves the mutilated bodies of two violent criminals as a present to the city. As the city cheers on their new hero, the Coyote focuses on Detective Stellar's inability to close his case.
Pushed against two opposing forces, Detective Stellar finds an unlikely ally in motel owner and convicted murderer, Alex Delgado. Stellar is determined to stop the Coyote, even if it means breaking the rules. But dangling an irresistible target in front of the Coyote could put more at stake than just Stellar's badge.
Book Links
Website
Facebook
Twitter
Amazon Author Page
On Amazon
More Great Reads: