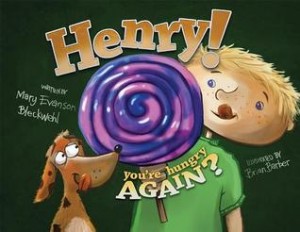 Henry! the highly imaginative first grader is back with a new problem.  After tangling with the school secretary in his debut picture book Henry! you're late AGAIN! he reveals another common problem. He is hungry AGAIN and AGAIN! He eats but why doesn't he get big and strong when he eats?
Junk food is the culprit.
It's chips and cupcakes for breakfast and LOTS of fries for lunch. When it comes to snacks Henry's polka-dotted-underwear-loving sister kindly supplies him with a stash of yummy candy.
But Henry's slow slide into the junk food pit isn't his problem alone. Henry's whole family is being sucked into the pit too and he is shocked to see what goes on in the teacher's lounge after school hours! The shocking revelation catapults Henry into action to save everyone from a slow descent into the grips of junk food.
We all love a story that has a bit of ourselves in it. Everyone from 3 to 103 can relate to this tale that gets delivered with a healthy dose of laughter and a sweet lesson on the benefits of good eating. Humor abounds along with the tasty illustrations by Brian Barber. Your healthy dose of laughter is served up by Henry himself.
Food is a requirement. Laughter is too.  Get your dose by reading this tasty morsel of a story that will have you running to your kitchen and hopefully finding what makes you big and strong.
Book Links
Website
Facebook
Twitter
Youtube
Amazon Author Page
On Amazon
Henry You're Hungry AGAIN? : Mary Bleckwehl