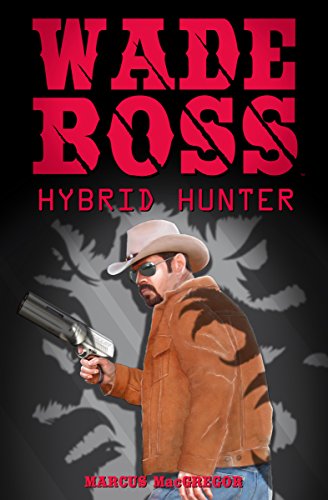 Wade Boss: Hybrid Hunter : Marcus MacGregor
Wade Boss: Hybrid Hunter
DANGEROUS NEW WORLD. OLD-FASHIONED HERO.
Saddle up for a summer of adventure with the trail boss of YA fiction, Wade Boss: Hybrid Hunter!
Meet Wade: Texas-born stuntman, Hollywood animal trainer, and genuinely nice guy. He can't say 'no' to someone in need, so when the LAPD asks for his help to catch an escaped tiger that's gotten trapped in an old lady's garage, he jumps in his super-sized pickup truck and races to the scene.
Wade finally corners the rogue animal, only to discover it is no tiger, but a half-tiger hybrid terror! By the skin of his teeth he survives and captures the ghastly beast unharmed, which puts him on the radar of a covert hybrid-hunting agency.
Wade's conscience quickly embroils him in a desperate struggle to protect unsuspecting civilians from a growing threat: genetic hybrids being engineered – and then unleashed – by mad scientists-unknown!
But no sooner does Wade discover his affinity for hybrid hunting than he realizes it has turned his loved ones into targets…
Parents! Looking for teen boys books for Kindle? Teen girls books? The first installment of this YA fiction series will lasso ANY teen's imagination with deadly monsters, worthy heroes, and a dash of CLEAN western romance!
Book Links
Amazon Author Page
On Amazon
More Great Reads: