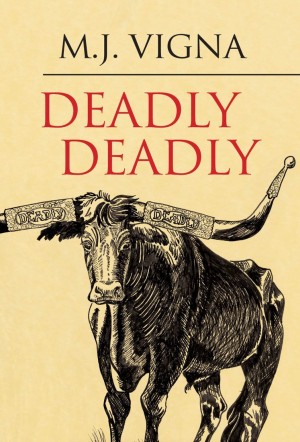 Deadly Deadly : M. J. Vigna
Get lost in this western epic of adversity, despair, and triumph.
Don't let the cover fool you; this is a story for the more mature reader. It revolves around a deep bond that is established after a young man, alone in the world, discovers a newborn Texas Longhorn bull and rescues him from deaths grip. As the bull matures, due to his lethal seven-foot horn spread, he eventually becomes known as Deadly. This unique relationship grows into an inseparable partnership and they become an indomitable force, which will be a blessing for the beautiful woman who ultimately depends on them as her only hope for survival.
Deadly Deadly is an exciting, larger than life story that takes place during the growth of our nation westward. It details the hardship encountered on a very special trail drive in the 1800s. This exciting novel tells a truly original story among a backdrop of harsh and extreme conditions. Crafted with an enormous passion, this amazing story pits an eclectic cast of characters against the unforgiving elements and the evils of men. A one-of-a-kind story, readers cannot afford to pass up.
With a Texas Longhorn as one of its main characters, Deadly Deadly stands out against the homogenous backdrop of today's fiction. Inspired by a lifelong love and study of horses, whether it was raising, training, showing, breeding, or through art, author M. J. Vigna combines this priceless hands-on knowledge with an exciting Western setting to create a captivating, character-driven story that is as gripping as it is heartfelt. Expertly written with authority and passion, whether it's the loveable characters, unique relationships, budding romance, or natural and manmade dangers, this remarkable novel creates something stunning that will capture the hearts of every reader.
Book Links
Facebook
Twitter
Email The Author
Amazon Author Page
On Amazon
More Great Reads: