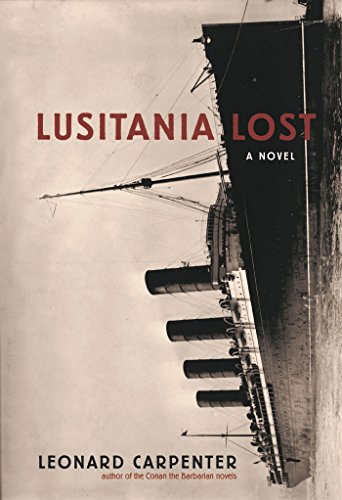 Lusitania Lost : Leonard Carpenter
Lusitania Lost
Lusitania Lost is a historical novel depicting the final 7-day voyage of the luxury liner Lusitania in 1915, and its torpedoing by a German U-boat. This epic story touches all aspects of the tragic sinking, along with real events of the Great War in the capitals and the battlefields of Europe. My fictional characters experience all the adventure, romance, dread and disaster of this world-shaping crisis.
Alma Brady is a torch singer fleeing a New York mob boss. Joining a group of nurses bound for the Western Front, she meets Matt Vane, a tabloid reporter investigating what secret weapons may be in the Lusitania's hold. These half-dozen friends and lovers mingle with gangsters, spies, war profiteers, tycoons and Broadway celebrities as the ship steadily approaches the War Zone.
Meanwhile fanatical Kapitan Schwieger of the U-20 begins his deadly pursuit, tracked by British Admiralty code-breakers in London's Room 40. Tensions build as passengers discover the German Embassy's deadly warning, while Lusitania's Captain Turner and his crew try to prepare for the dangers ahead. But can they begin to understand the massive forces that are taking shape against them?
Amid the relentless timeline of historic events, my characters evade danger and plan for survival, Live or die, will they resolve the historical riddles and controversies that still persist into our current century? These taut scenes portray real characters from the lowly to the great, including young Winston Churchill, Kaiser Wilhelm, King George V and President Wilson. This is the ship disaster that put the US on track to enter WWI.
(Note: The screen adaptation of this truly titanic adventure is also completed.)
Book Links
Website
Facebook Author Page
Facebook Book Page
Twitter
On Amazon
More Great Reads: