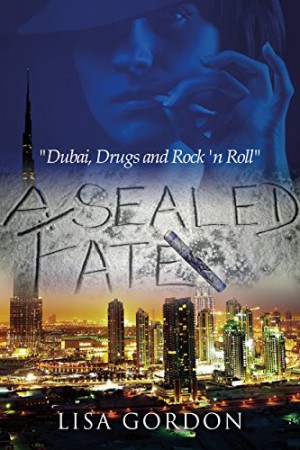 A Sealed Fate : Lisa Gordon
A Sealed Fate
A chain of tragic deaths across Dubai spanning two decades, only Valda knows they were not accidents, but murders. Her name is next on that list. Spunky singer Valda ditches her old life in Cape Town for a new start in glittering Dubai. Armed with just her cigarettes and some attitude she sets about reigniting her career and putting to bed the heartache over her former boyfriend Richard.
Valda does indeed find success and to her astonishment love, but all is threatened when she is introduced to a billionaire Sheikh. Her clandestine liaison with the Sheikh, propels her into a murky web of deceit and when newspaper clippings of seemingly accidental deaths across Dubai are posted anonymously to her it is clear she is rushing headlong into the same fate.
No one dare cross the Sheikh and she can hardly hardly turn to the law, so with few options open she confides in Larissa. As an astrologer, Larissa predicts that Valda and the Sheikh's destinies were sealed from the moment of their first meeting; however she keeps the dire fate that she reads in the charts a secret. Lara resolves to help Valda flee Dubai and the ever tightening grip of the Sheikh; but should Valda be putting all her faith in her new friend and guru of the grimoires.
Together, Valda and Larissa take a gamble in a game of cosmic Russian Roulette where the stakes are their lives and their adversary, Fate itself.
A thoroughly modern cocktail of intrigue, passion and suspense set against the exotic locales of Cape Town and Dubai with an eclectic mix of characters, a perfect beverage if you like a tangy lemon peel in your drink as this one has a twist at the end too, but you'll have to read it to discover it.
Lisa Gordon tells the story at a cracking pace and it passes the time quite amiably. You get a real feel for the settings of Dubai, its exotic colour mixed with danger, which is interesting to read. –The Astrological Journal When I started this book it seemed to be light holiday reading but as I read on the suspense tightened and I found I was reading a really good thriller. -Richard Llwellyn of Api-uk.org –The Astrological Journal
Most entertaining and well worth reading! It is well written and engaging, rushing you along with some surprises and twists which really keep you guessing until the last page! –Nina Lazarus, Esoteric Book Review This novel can offer sumptuous feast to the lovers of esoteric fiction. –Express Starteller –Nina Lazarus, Esoteric Book Review
"For a slender offering, it is a complex novel, written with great care. It is also one of the hardest books to categorize as it fits in both in the thriller genre as well as the much overlooked esoteric fiction genre. It makes you wonder about things such scary things as destiny, fate and karma. She has an affinity for place in this and it turns A Sealed Fate into something a bit more complex than I initially thought. This is the debut novel by Lisa Gordon and it was a very competent one". – My Favourite Books –My Favourite Books
Book Links
Facebook
Twitter
Amazon Author Page
On Amazon
More Great Reads: