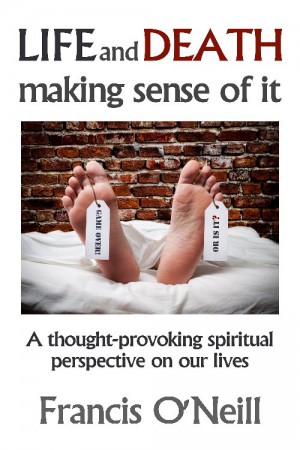 Life and Death – Making Sense of It : Francis O'Neill
Life and Death – Making Sense of It
A thought-provoking spiritual perspective on our lives.
Sometime, some day, maybe not all that far away, you are going to leave your physical body and move on… This will be the biggest event of your life, and if you haven't yet considered it, or made preparation for it, then you really ought to read this book…
Written by a reformed sceptic, Life and Death – Making Sense of It, will take you on an adventure to exploring just what it is you have let yourself in for – by coming to the Earth. It offers insight and clarity on our situation. It proposes answers to leading questions about life and death – and these answers are a long way from what we are being taught by conventional means.
The book challenges our increasingly secular take on life, and its denial of the afterlife. It draws on a range of sources, including the paranormal, NDE, past lives, and mediumship. It explores and offers an explanation for the rise of human consciousness. It provides insight, including esoteric perspectives, into the soul, reincarnation, karma and the 'Other Side.'
In his twenties, the author, Francis O'Neill, was an atheist and existentialist in his beliefs. Only later did he realise he had got it wrong. This was after experiencing one particular paranormal event – he's had a few – and later coming across a book by C.G. Jung. From that point on he began to explore life from a different perspective. It has become his lifelong study and research, taking him into archaeology, astrology, psychology and esoteric knowledge, to gain a clearer understanding of the human situation.
This book is the outcome and reflection on his personal journey.
The book is available in paperback and ebook versions – Kindle, EPUB and PDF. Get the Introduction and related articles for free – visit the book's website.
Book Links
Website
Twitter
Facebook
Goodreads
Amazon Author Page
On Amazon UK
On Amazon
More Great Reads: