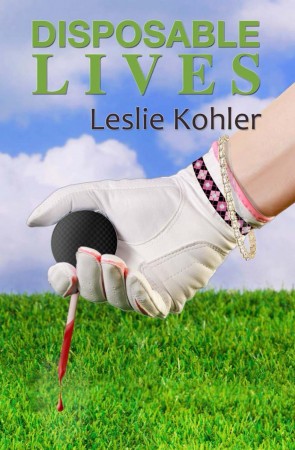 Disposable Lives : Leslie Kohler

Disposable Lives
COCKTAILS, CON MEN, CONSPIRACY!
Maggie Leman leads a fairy tale life in California's Newport Beach. When she finds an $899 environmental Miu Mo satchel stuffed into her husband's golf bag, with a sexalacious note to My Bridget, Maggie's so mad she wants to kill her husband.
Instead, she scrawls I AM NOT A PLASTIC BAG onto the over-priced tote. Maggie, with her alabaster skin and sable locks, not only looks like Snow White, but now feels like in the fairy tale, she's bitten into the poison apple seeping venom into her life.
When cheating golfer husbands start getting knocked off in sleazy motels with Miu Mo's next to their bodies, Maggie's childish scrawl makes her murder suspect Number One. And the former debutante, now Homicide Detective, Nicole Harrington, is determined to see Maggie cuffed.
Fearing being slapped into a jailhouse cell, Maggie mounts her own investigation. She uses her research skills from her days as a marketing executive, before she became a Country Club Mom, to find out who's really behind this sordid tale.
Maggie's investigation takes her into the steamy Newport Beach nightlife, to the posh San Marino Racetrack, and, to the precipice of the Newport Hills cliff-lined golf course.
Along the way she buddies with her best friend, the gorgeous Regina, a shark-like divorce attorney with flaming red hair that makes men feel they're on fire. And she has thermal run-ins with the goldenrod specimen of manly hunk, Todd Williams, who was Maggie's first love.
Maggie's life normally ran like a smooth swing off a golf tee. But now she feels it's taken a sharp hook and she needs to straighten her course. Newport Beach is no longer the safe haven she always felt it to be. Seems Newport blue blood is tinged with red. And this crimson tide may bleed from the Travellers–modern day gypsies who will stop at nothing to win their deadly con games.
Can Maggie stop this poisonous flow? Or will she become the next victim?
Book Links
Facebook
Twitter
Goodreads
Amazon Author Page
On Amazon
More Great Reads: