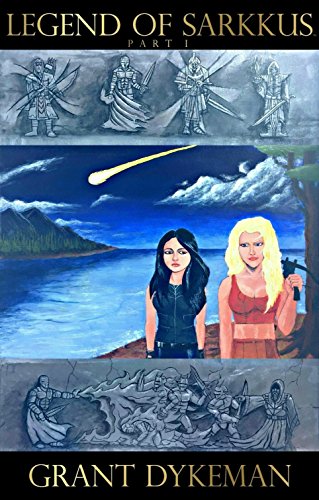 Legend of Sarkkus : Grant Dykeman
Legend of Sarkkus: Part 1
What is the Legend of Sarkkus?
The twelve kingdoms of planet Sarkkus have been cut off from one another ever since a great storm occurred thousands of years ago. Species, technology, governments, languages, and even time itself, all vary significantly from one kingdom to another.
When a vast army is discovered in a foreign kingdom, the Emperor of the tropical kingdom Kanu assembles a team of four individuals to investigate the only location on the planet that seems to hold all the answers: the stormy, uninhabitable, and mysterious kingdom of Capron!
A talented knight named Jack, a courageous soldier named John, a confident bounty hunter named Breonna, and a quick-witted mercenary named Michael set off on their long journey to Capron which does not prove easy.
At the start of their journey, Jack quickly falls in love with a beautiful, young woman named Abigail, whom he meets in the underwater capital city of the kingdom Aquatherion, leaving him emotionally split between his mission. . . and his feelings for her.
Tensions rise as the team travels from kingdom to kingdom, making new friends along the way, and encountering new foes as they venture closer to the dangerous kingdom of Capron! Only there, will they be able go and risk their lives if they truly wish to learn the secrets of both the seemingly infinite-sized army that is forming, as well as the truth behind the Legend of Sarkkus!
Book Links
Instagram
Goodreads
Amazon Author Page
On Amazon
More Great Reads: