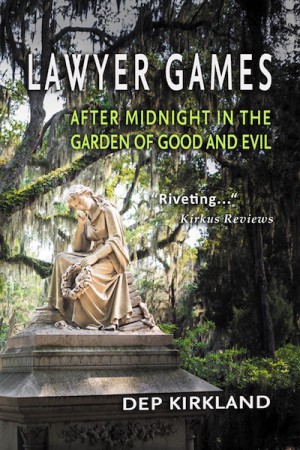 Lawyer Games : Dep Kirkland
Lawyer Games : After Midnight in the Garden of Good and Evil
LAWYER GAMES is the TRUE story of the murder case that gave rise to the book and Clint Eastwood directed motion picture, Midnight In The Garden Of Good And Evil. Unlike those fact-fiction tales, this is the truth—including facts never introduced in a courtroom—told by the original Chief Assistant DA who was there. Who was at the scene within an hour of the killing, while the body was still on the floor, who made the decision to arrest the defendant, who assembled the case and who tried the first of four murder trials, side by side with the District Attorney.
Any delusions about the murder at the core of the Midnight madness will be shattered by this account. But this book goes far beyond the boundaries of a single murder case. No reader of LAWYER GAMES will ever again look the same way at a criminal trial.
State of Georgia vs. James A. Williams was tried four times over eight years and involved intrigue reaching into the highest levels of Georgia politics, involving an infamous trial lawyer, a former Governor, a former President of the State Bar Association and breeder of the UGA mascot, and the Georgia Supreme Court itself.
LAWYER GAMES is not merely the story of an infamous murder case. It is the story of lawyer obfuscation, subterfuge, and manipulation of the criminal trial process. These are common tools of a certain species of defense lawyer. LAWYER GAMES demonstrates the connection by drawing parallels with other high-profile criminal defendants, including O.J. Simpson, Phil Spector, Angelo Bruno (one of two Hillside Stranglers) and others.
Murder cases are not tried four times. The Williams case was, allowing the author to go beneath the surface, into the belly of the beast. To go beyond examining a question asked by a lawyer, to the reason the question was asked, why the wording was used, and what the lawyer was after, which is often unrelated to the question's apparent purpose.
LAWYER GAMES not only proves the guilt of one defendant beyond any shadow of doubt, but also serves as a stinging indictment of a certain type of lawyer, one unrestrained by the boundaries of moral or legal ethics.
This is a story of how virtually unlimited funds wielded by such lawyers can contaminate a criminal case and turn a simple murder trial into a spectacle and a collective public fiction. That fiction, the story of an accused murdered being vindicated by tireless teams of defense lawyers in pursuit of the truth—could not be further from the truth. LAWYER GAMES reduces that popular perception to dust.
Book Links
Website
Facebook
Twitter
Amazon Author Page
On Amazon
More Great Reads: