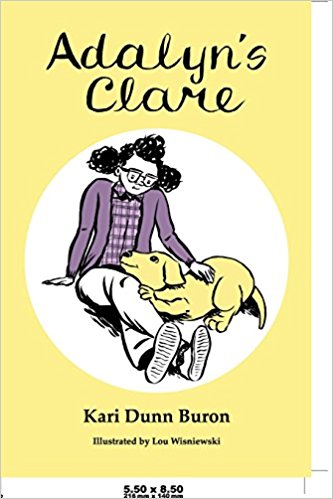 Adalyn's Clare : Kari Dunn Buron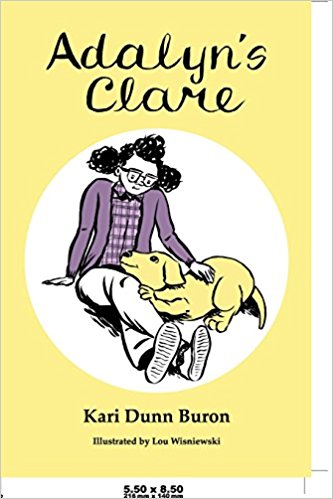 Adalyn's Clare
Adalyn's Clare is the story of a fourth grader named Adalyn who is highly anxious and in need of some help. Clare is Adalyn's therapy dog, brought in to school by a caring teacher in the hopes of helping Adalyn to relax and find some friends. The story alternates between the perspectives of Adalyn and Clare, and as the story evolves, the reader discovers more about why each character thinks and behaves the way she does.
Adalyn is a brilliant student who loves science and animals, but often feels awkward and uneasy around her classmates. Adalyn is coping with too many "worries" and so sometimes makes some pretty big mistakes. The reader soon finds out that not only are other children confused by Adalyn, but many of the adults also have difficulty understanding why Adalyn does the things she does.
Clare is just a puppy and a little overwhelmed by her great responsibility. Luckily she is able to seek help from some endearing, smart, and intuitive animals in the science room who advise her to find Adalyn a "pack" of her own. Clare knows about packs and how being with a pack can make life easier and safer, so she sets out to find Adalyn a pack of friends she can truly relate to.
Adalyn's Clare is an excellent book for teachers and parents wanting to discuss topics such as social and behavioral differences; bullying; maintaining self-control; the importance of friendships; understanding other people's perspectives; and how to understand challenges of social anxiety in this age of "zero tolerance". The book is easily read by children in grades three through six and can also be used as a Read Aloud chapter book in classrooms where teachers want to have a guided discussion of issues raised in the story.
Book Links
Goodreads
On Amazon
More Great Reads: