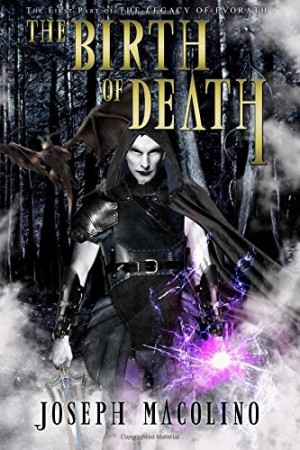 The Birth of Death : Joseph Macolino
The Birth of Death
Artimus, the head investigator for the elvish kingdom of Erathal, is disturbed when he discovers that the culprit behind a recent string of kidnappings presents the greatest threat the world of Evorath has ever seen. As he develops feelings for Savannah, a beautiful elvish druid hiding a great secret, he struggles to separate his personal feelings from his responsibilities to the crown. Meanwhile, Irontail, a young centaur warrior, endeavors to find his way in a tribe where independent thought is discouraged.
When their paths cross, the entire forest must unite, performing an ancient ritual to combat this new evil. While the world of Evorath deals with this great threat, Artimus and his companions must put their internal conflicts to rest as they work together to combat this harbinger of death. As they work towards this common goal, they find that they each have their own, unique gifts to offer. But, will they be strong enough to survive?
The first of many stories taking place in the world of Evorath, this series gives readers the thrill of an epic fantasy while introducing characters who are struggling to balance the demands of society with their own personal desires. One thing is for sure: at the end of it all, nothing will be the same.
Book Links
Facebook
Twitter
Amazon Author Page
On Amazon
More Great Reads: