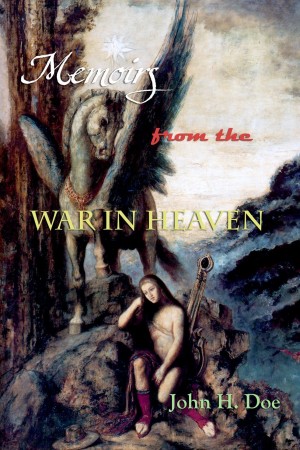 Memoirs From The War In Heaven : John H. Doe
Memoirs From The War In Heaven
Important things happen from time to time, mostly without warning. Things that give purpose to a life, even the reason why you were born at all.
I am a child of God, to whom was revealed strange and wondrous things, things I must relate to show something of why life is as life is, why the world is as the world may be. This is my story, perhaps with the mundane washed away, to distill the range of experience of how I was given my own true purpose why–why my life walked the path it did. From a running start, a typical Friday night turned suddenly epic.
I have seen awesome things unfold before my eyes, and these were of the War in Heaven (the real one, not a metaphor for something other). I was a soldier in God's army, and I fought beside angels in the casting of Satan and his own from Heaven. I'm sure you've heard the tale. What if it were real, what if it really happened? And the dispatching of Lucifer to Hell? What if the stakes were higher, what if the prize was all of creation? Indeed, this is the story I tell: I am the white rabbit. Do you want to see just how far the rabbit hole goes?
And what is beyond sometimes touches down, sometimes through your very fingertips. See for yourself.
Book Links
Website
Amazon Author Page
On Amazon
More Great Reads: