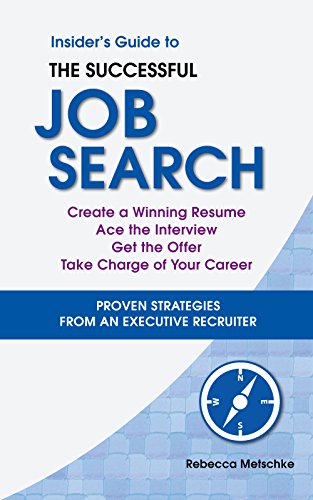 Insider's Guide to the Successful Job Search : Rebecca Metschke
Insider's Guide to the Successful Job Search: Create a Winning Resume, Ace the Interview, Get the Offer, Take Charge of Your Career
The best qualified person doesn't always get the job offer.
That may not seem logical, and might strike you as unfair, but it's the reality of the hiring process. The best candidate, on the other hand, always takes the prize. And along with the job offer comes the freedom for that candidate to chart his or her professional course.
This comprehensive guide provides proven techniques and strategies – straight from an executive recruiter – that will significantly enhance your desirability as a candidate. It covers every aspect of the job search and gives you tips, tools and tactics you can use to create a professional advantage. Whether or not you're currently engaged in a search, the book outlines steps you can take right now to increase your marketability.
Contents include:
The Winning Resume

Cover Letter: Useful Tool or Obsolete?

Acing the Interview

The Consummate Thank-You Note

Common Interview Questions

Questions Interviewers Shouldn't Ask (But What if They Do?)

Getting the Most out of Your References

Executive Recruiters: What You Need to Know

Looking for a New Job Without Losing the One You've Got

The Passive Versus Proactive Job Search

The Waiting Game

Negotiating Your Compensation

Last Impressions: The Importance of Resigning Well

Succeeding in Your New Job: Hit the Ground Running

Managing Your Career

Advice for Candidates Over 50

Surviving a Layoff
More Great Reads: