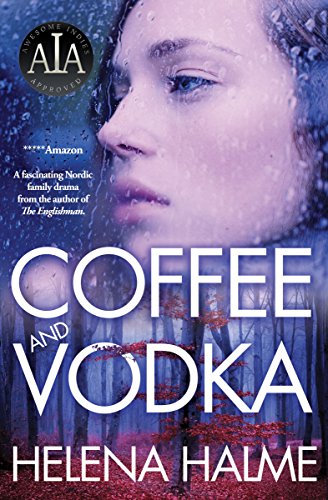 Coffee and Vodka : Helena Halme
Coffee and Vodka
'Nordic Noir Meets Family Saga'
'A rich story that stays with us….with moments of brilliance.' Dr Mimi Thebo, Bath Spa University.
'The descriptions of the difficulties of childhood, sisterhood, relationships and parenthood transcend national borders.' Pauline Masurel, editor & writer.
Eeva, a tall, ambitious teacher of Swedish to immigrants, is sipping coffee in her orderly flat in Stockholm, when the phone rings. She recognises the voice immediately, though she hasn't spoken with Pappa for over thirty years. He has news that Eeva's beloved grandmother is dying. Immediately Eeva decides to travel to Finland alone. She tries to call her sister Anja to tell her the news, but can't get hold of her. However, Eeva decides against telling her boyfriend, Janne, about her journey.
On the overnight ferry to Finland, Eeva is haunted by memeories of her childhood and the dramatic events which follwed her family's move in 1974 from a small Finnish town to Stockholm. The story shifts between the past and the present.
Eeva is excited when Pappa announces the move from Tampere to a brand new flat in the Swedish capital, where 'Everything is bigger and better'. But in Sweden Eeva's world falls apart. Mamma finds feminism and Eeva's feisty older sister, Anja, quickly becomes fluent in the language and starts to pretend to be Swedish. But the domineering Pappa feels angry at being called a 'Fucking Finn' by the more affluent Swedes. He feels inferior and resents his family's newfound independence.
On the overnight ferry Eeva meets an old lover she thought'd she'd forgotten, Yri. They share a drink and Eeva finds he hasn't lost any of his charm. The next morning, when Eeva drives towards Tampere, a town she left behind as a child, she dreads seeing Pappa again. She's anxious to see her grandmother and puzzled that she can't get hold of her sister. How will Eeva overcome her fear of Pappa, her anger at his past actions and the haunting memories from her childhood? And what is she going to say to Janne?
Book Links
Website
Facebook
Twitter
About Me
Amazon Author Page
On Amazon UK
On Amazon
More Great Reads: