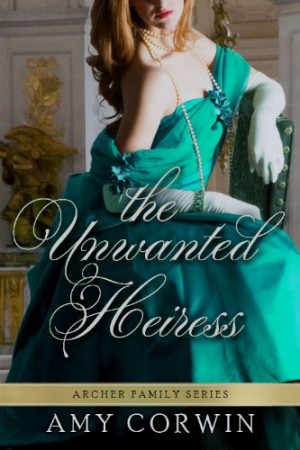 The Unwanted Heiress : Amy Corwin
The Unwanted Heiress
An American heiress nobody wants; a Duke every woman is after; and a murder no one expects.
When Nathaniel, Duke of Peckham, meets Charlotte, he's suspicious of her indifference. Too many women have sought—and failed—to catch him.  However, Charlotte is more interested in dead pharaohs than English dukes.
Unfortunately, a debutante seeking to entrap Nathaniel gets murdered, and his reputation as a misogynist makes him a suspect. On impulse, Charlotte comes to his aid, not realizing that her actions may place her in danger, too.
Both are unaware that a highwayman interested in rich heiresses is following Charlotte, and that another debutante lies dead in Nathaniel's carriage.
Some nights just don't go as planned.
Book Links
Website
Facebook
Twitter
Goodreads
Amazon Author Page
On Amazon
More Great Reads: