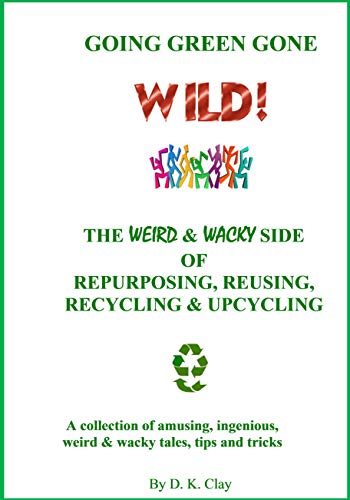 Going Green Gone Wild : D. K. Clay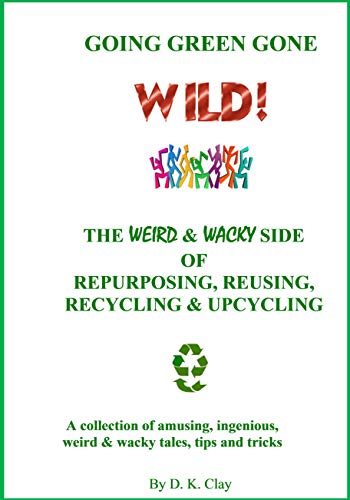 The Weird & Wacky Side of Repurposing, Reusing, Recycling & Upcycling
Going Green Gone Wild is a compilation of amusing, quirky, ingenious and sometimes, bizarre, tips and ideas on upcycling, recycling and repurposing common items in uncommon ways. The tips and ideas contained in this book focus only on odd, wacky and amusing tips that will exercise your imagination and creativity. They are definitely not your "typical" recycling tips.
In this book, you will find inexpensive shortcuts and clever solutions for solving common problems using what's on hand, in other words – "MAKING DO."
Going Green Gone Wild contains more than 1,000 ingenious, fun and amusing tips and ideas on upcycling, recycling, repurposing and reusing items that would ordinarily be thought of as holding a one-way ticket to the dump. These tips will allow you to curb waste and keep useable items out of the trashcan and, ultimately, landfills, incinerators or oceans.
This book is not just about "fixing" things, it is about fixing things in unexpected ways. It is also about making common household items work overtime by serving more than their original purpose and acting as substitutes for items that would otherwise be purchased, thus saving money, time and natural resources,
The methods and techniques identified in the book to accomplish these ends are amusing and sometimes outlandish. They are examples of "green" solutions unleashed, taken to the extreme and GONE WILD! They are demonstrations of the degree creative folks are willing to go to accomplish an end. Going Green Gone Wild provides humor while celebrating human ingenuity and the extent to which this ingenuity can be taken.
The wild, wacky and outlandish tips cover topics such as health and beauty, fashion, children, pet care, kitchen organization, food preparation and storage, dinnerware and dining, home decorating, energy conservation, cleaning and storage, pest control, home security, gardening, office tips, home and car maintenance, sewing/crafts and many more. This entertaining book contains material useful to homemakers, gardeners, handypersons, office workers, mechanics, and crafters.
Organized by topic, the stage for each chapter is set with a humorous anecdote, quirky tale, weird factoid, fun fact or informative tidbit followed by unconventional repurposing tips such as:
Making shoe innersoles from computer mouse pads or carpet remnants
Making a portable washing machine from a 5-gallon paint bucket and a sink plunger
Replacing a broken refrigerator door handle with a leather strap
Making a dolly for heavy objects from an old lawnmower
Making a new toilet flapper chain from safety pins
Making roofing tiles from old tire treads
Repairing leaking pipes with chewing gum
Making a fly swatter from the tongue of an old boot
The offbeat ideas in this book demonstrate resourcefulness and imagination while providing amusement, making the book an entertaining and fun read.
More Great Reads: