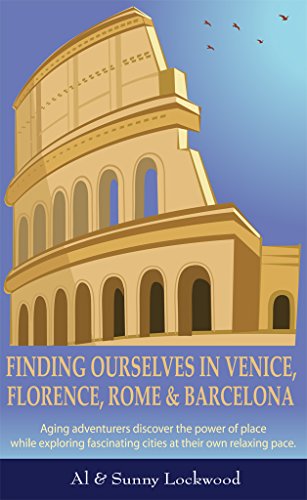 Finding Ourselves in Venice, Florence, Rome & Barcelona : Al & Sunny Lockwood
Finding Ourselves in Venice, Florence, Rome & Barcelona
In this feel-good travel memoir two veteran travelers explore the wonders of grand European cities discovering colorful characters, amazing architecture, fascinating art, and mouthwatering cuisine.
Join Al and Sunny Lockwood as they ride the choppy green waters of Venice's Grand Canal. Visit St. Mark's Basilica, glittering with gold and candlelight.
Stroll with them through romantic Florence letting its Renaissance art refresh your heart.
In Rome, visit the Sistine Chapel still vibrant with Michelangelo's unique paintings. Stand in the Colosseum and imagine gladiators battling to the death-roar of the crowd.
Enter the most visited monument in Spain: Barcelona's jaw-dropping Sagrada Familia and feel your soul expand in its stark and stunning beauty.
Roam shaded side streets filled with unusual shops and sweet-smelling bakeries.
Ramble across magical bridges and through hidden squares.
Relish evening meals that last until the stars come out.
Let gelato set your taste buds dancing while accordion music starts your toes a tapping.
Come along with these two spirited explorers as they make surprising discoveries in both famous and little-known neighborhoods, and share their delight in seeing the world anew.
Buy Finding Ourselves in Venice, Florence, Rome & Barcelona today and embark on a breathtaking adventure for the young at heart.
Book Links
Facebook
Goodreads
Amazon Author Page
On Amazon
More Great Reads: