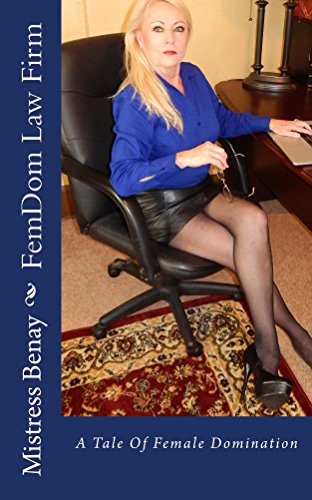 FemDom Law Firm: A Tale of Female Domination : Mistress Benay
FemDom Law Firm: A Tale of Female Domination
Nicholas Paige thought that he would have no problem at all being hired by a Prestigious Law Firm when he graduated at the top of his class from a Nationally Acclaimed Law School.
When the best offer he received, was from a Philadelphia Law Firm whose Managing Partners were all women, Nicholas thought that as an attractive male, he had it made.
Unfortunately, he had no idea of what laid in store for him when he joined the FemDom Law Firm, and he was not prepared for what happened to him once he incurred the wrath of the Senior Attorneys at the Firm.
You won't want to put this thrilling Novel down once you start to read it, as Mistress Benay weaves a sensuous plot which takes the reader into the depths of Female Domination, Male Chastity, BDSM Activities, and Female Led Relationships.
Here's what another Author had to say about FemDom Law Firm:
5.0 out of 5 Stars: "If Grisham Wrote a Femdom Thriller, FEMDOM LAW FIRM would be it! From the very first page this highly erotic femdom novel (248 pages!) reminded me of John Grisham's blockbuster, The Firm. In both stories, a highly recruited male law graduate is hired by a prestigious big-city law firm (Grisham's in Memphis, this one in Philly), dazzled by the starting salary and associated perks, only to find out, too late, that those corner offices and conference suites harbor hidden secrets."
Book Links
Goodreads
Amazon Author Page
On Amazon
More Great Reads: